Premier Interschool's Team Announcement: Afrikaans Hoër Seunskool vs Paarl Gimnasium
Premier Interschools is a series of 12 matches, which feature the highest profile and most traditional interschool rugby rivalries, from South Africa's top rugby schools which are broadcast live on SuperSport from May to September 2021.
Afrikaans Hoër Seunskool (Affies) will take on Paarl Gimnasium at their home turf on Saturday, 23 April. The match will be televised live on SuperSport Variety 3 from 13h55
All other games on main field with be available SuperSport Schools App
MATCH DETAILS
Derby Date: 23 April 2022
Kick Off: 13h55
Hosting School: Grey High School
Broadcast: SuperSport Variety 3
Team Lists: Below (Affies) & Attached (Paarl Gimnasium)
Affies: 1ste XV
15.Migael De Lange
14.Stephan Brits
13.Tiaan De Wet
12.Heinrich Horn
11.Marx Nel
10.Stiaan Heymans (c)
9.Armand Shahia
8.Beyers Roos
7.Dieter Schubert
6.Ewan van Heerden
5.Andreas Burger
4.Erick Jooste
3.Zack Marirtz
2.Hanro Venter
1.Luchan Mouton
16.FC van Rooyen
17.Steyn Truter
18.Mikail Kohler
19.Dian Du Toit
20.CF Delport
21.Abel Pretorius
22.Karl van der Westhuizen
23.Ivandre van Wyk
HOëRSKOOL GIMNASIUM, PAARL 1st XV
| | |
| --- | --- |
| POSISIE | NAAM EN VAN |
| 1 | JEAN FOURIE  |
| 2 | LUCA BAKKES  |
| 3 | BERNARD BLADERGROEN  |
| 4 | SLABBERT MAARTENS  |
| 5 | DANIO BOTHA |
| 6 | WILLIE DE WAAL  |
| 7 | KEANU COETSEE |
| 8 | DEAN CROUSE |
| 9 | EMRIQUE LIEDEMAN  |
| 10 | LIAM KOEN  |
| 11 | JOHANDRé VAN NIEKERK  |
| 12 | PHILLIP-ALBERT VAN NIEKERK (K) |
| 13 | JANEIL LOSPER  |
| 14 | ENZO LABUSCHAGNE |
| 15 | SHAUN RAY  |
| AFRIGTERS | Pieter Rossouw , Helmut Lehmann |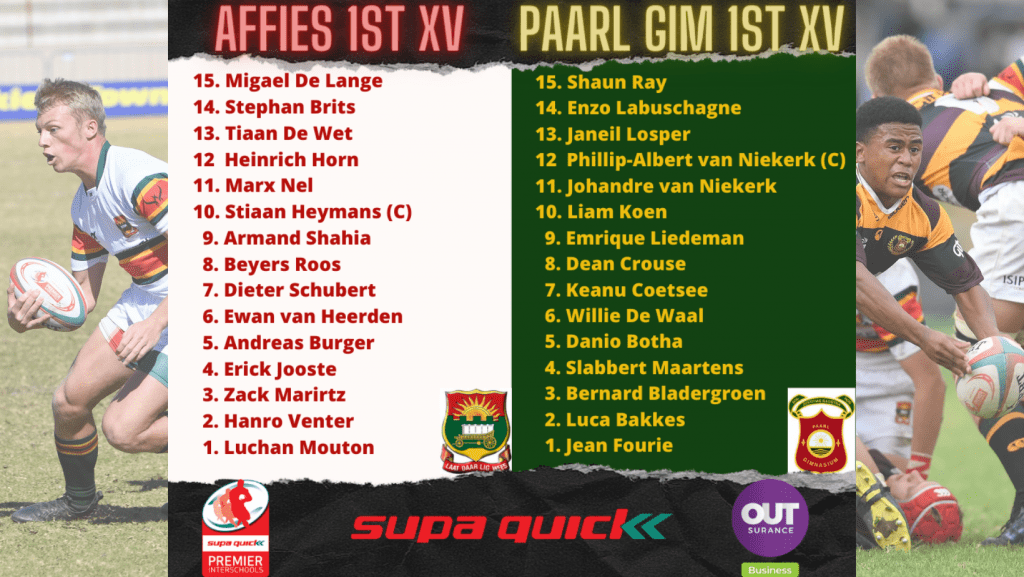 END
Media release issued by Terras Communications on behalf of Premier Interschools.
For press assistance contact Lauren Terras on +27 82 785 2644 or e-mail lauren@terrascomms.com . For further information on Terras Communications visit www.terrascomms.com
FOR TOURNAMENT INFORMATION PLEASE CONTACT:
Robert Blair, Operations Manager Premier Interschools Pty Ltd.
Telephone: +27 (0)79 588 3703
Email: robbie@premierinterschools.co.za
About Premier Interschools
Premier Interschools is a series of 12 matches, which feature the highest profile and most traditional interschool rugby rivalries from South Africa's top rugby schools, which are broadcast live on SuperSport from May to September.
Schoolboy rugby has served as one of the cornerstones of domestic rugby dating back more than a century, and true to its slogan "Honouring Heritage. Playing for the Future", Premier Interschools is about history, heritage and tradition. The series, now in its ninth year, is expected to grow even stronger.
Follow Interschools on:                                                                                                                
Facebook:  www.facebook.com/Premierinterschools
Twitter: @PremierSchools
Instagram: PremierInterschools
Youtube: https://www.youtube.com/channel/UCsqduHOxR2odBM7O-uyBGSg
Title Sponsor
Super Quick:
As industry leaders in expert fitment service, at Supa Quick we promise to do the job right the first time, every time. Our experts undertake to always offer the best possible recommendations. Supa Quick's fitment experts strive to understand exactly what you require and thereafter provide you with the optimum solution along with sound and honest advice.
Supa Quick has over 260 tyre dealers nationwide, employing 4 000 fitment experts. Whatever you're looking for, from original equipment to high-performance, we have the solution.
Associate Sponsors
OUTsurance:
Whether you're looking for a personal or commercial insurance solution, OUTsurance has the customised cover that could save you money every month. Depending on the complexity of your needs, you could also enjoy ongoing personalised service from a dedicated OUTsurance Broker. Isn't it about time you got something out?
OUTsurance is a licensed insurer and FSP. Ts and Cs apply.
Gilbert:
Since the inception of Rugby in 1823, Gilbert has been making the finest rugby-balls in the world. Throughout the centuries, Gilbert has been trusted by the rugby family worldwide to produce quality products specifically designed to enhance the enjoyment of the game, for all that use them.
Whilst we remain the ball of choice for virtually every international team and tournament worldwide, our range of other products has evolved to cater for every requirement. Our new range for 2016 season includes rugby balls of the quality you have come to expect from us, some in radically new designs.
Gilbert South Africa is the trusted sponsor of all SA Rugby and SANZAAR tournaments, as well as the official Partner of the Springboks.